Nord-Amerikanischer Sängerbund
National Sängerfest Pittsburgh, PA, May 26-29, 2016

Newsletter~May 16, 2016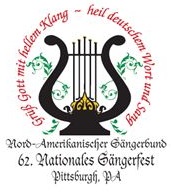 Greetings Fellow Singers,
It is hard to believe that it has already been three years since we were last together in Milwaukee.  Here in Pittsburgh we are tirelessly working to make sure that all of you have an enjoyable time while you are staying in our "Most Livable City".
Here are a few items that I have been getting questions on:
Where and when can we pick up our registration packets?
Registrations packets can be picked up by the group representative at the times listed on the schedule.  Only the group representative can pick up and sign for the registrations for their group.  This is being done to eliminate confusion and issues that can arise from someone other than the contact person picking them up.
Will you have any souvenirs for sale?
We have ordered in commemorative steins, t-shirts embroidered with the Sӓngerfest logo, and bags for you to purchase. The quantities are very limited so please make sure that you buy early so you can get the items you want.
Where is the Dӓmmerschoppen happening?
The Dӓmmerschoppen is being held at one of our local clubs, The Bloomfield Liedertafel.  During the evening, we will have a live band for your listening and dancing pleasure.  We will also have the opportunity for a few individual choruses to sing throughout the evening.  Our committee as well as the National Board members will be in available throughout the evening for a meet and greet.
When and where are the Districts rehearsing?
The full schedule including rehearsal locations will be available in the registration packets, however here is the list of start times for the various Districts: Pittsburgh 11:00am, Southern 11:00am, Wisconsin 11:30am, Central Ohio 12:10am, Michigan 12:50pm, Chicago 1:30pm, St. Louis 2:10pm, SOKII 2:50pm, NӦSB 4:10pm, and Dirsctors Chorus 4:50pm.
Where will the dances be held?
There will be a dance at the Wyndham on Friday evening after the Concert.  Please also remember that you are welcome to hop on one of the Shuttle Busses over to Teutonia Mӓnnerchor in Pittsburgh's historic Deutschtown section.  There Barons will be playing for your dancing and listening pleasure.
On Saturday, there will be a dance held at the Wyndham after the Banquet.  We will also have shuttle busses available to visit the Bloomfield Liedertafel just a few miles up the road from the Hotels.  We will have a live band for your dancing and listening pleasure there as well.
Where is the rehearsal for the Saturday Concert, and what time does it start?
The rehearsal is at the A.J. Palumbo Center at Duquesne University and it starts at 9:00am sharp.  You should be ready to return to the Palumbo center by 2:15pm as that is when the busses will start to bring you back there.
Where is the Sunday Frühschoppen?
The Frühschoppen will be held at Teutonia Mӓnnerchor.  Teutonia is our oldest surviving singing society from what used to be known as Allegheny City, now Pittsburgh's North Side.  Please come over and visit the club, Teutonia takes great pride in their facility and it truly is worth the visit.
Where will our motor coaches be at during the Sӓngerfest?
Please contact the committee at pghsaengerfest@gmail.com for information to give your bus company on who they can contact to make those arrangements.
If you have any questions or concerns, please do not hesitate to reach out to me.  My telephone number is
412-354-9389 and I can also be reached at pghsaengerfest@gmail.com412-354-9389
412-354-9389
I look forward to seeing everyone here.
Mitt Sӓngergrüsse,
Nick Lipnichan
Chairman, 62. Nationales Sӓngerfest Pittsburgh


Schedules:

♪ 62. Nationales Sängerfest ~ Pittsburgh, PA, Schedule for May 26-29
♪ Empfangskonzert Friday District Rehearsal Schedule, May 27
♪ Copy of this newsletter and both scheudles in one document (PDF).